Our Story
From Bumble to Barn Wedding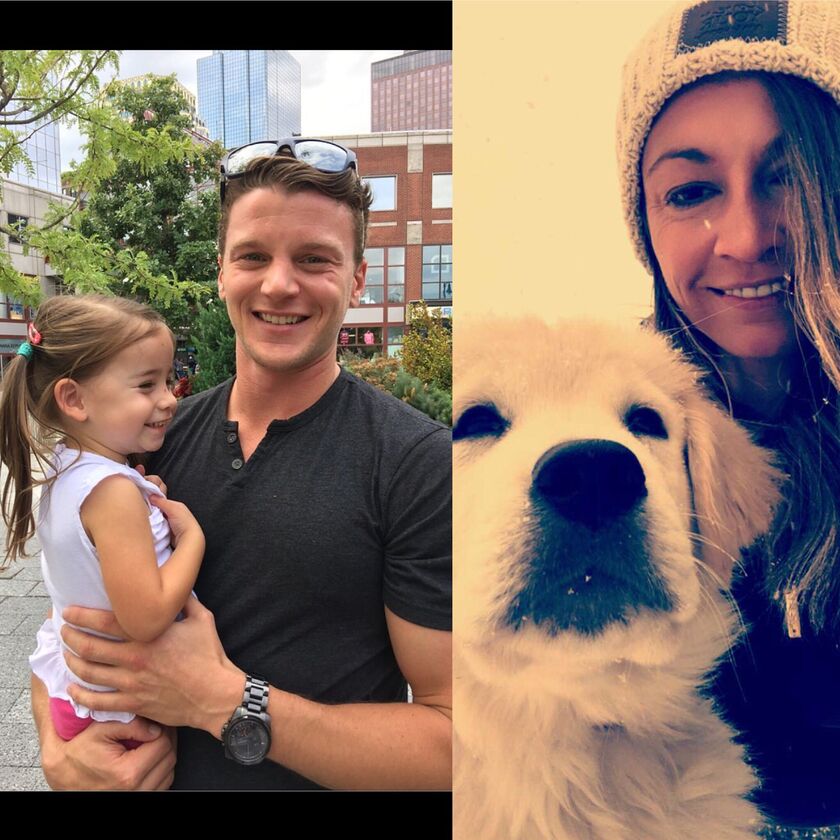 These two found each other on a dating app called Bumble and the love was sparked between Kayla and Matt thanks to the pictures you see above. Their first date was on January 17, 2017 and it was a rainy and cold night. They both lost themselves in conversation at Moonshine 152 until Kayla asked Matt if he would like to meet Milo her crazy puppy. They went to Kayla's where Matt met Milo, Kate (Kayla's cousin/MOH) and friend Krista. From that moment Kayla realized how amazing Matt was and decided she couldn't let him get away. Lucky for her, he felt the same way about her and the two were inseparable ever since. Months go by and the two took trips to New Jersey (Matt's home state), Myrtle Beach, Cape Cod, Los Angeles, Florida, and Mexico. Finally these two crazy travelers decided to get away over Memorial Day weekend to Amsterdam. They landed off of their red eye flight and roamed around the amazing city. On their way to dinner the couple walked to see one of the oldest bridges in Amsterdam, the Skinny Bridge. Legend has it couples who kissed passionately crossing the skinny bridge over the Amstel River will be in love forever. There on the bridge is where Matt bent down on one knee and asked Kayla to spend forever with him. Kayla said yes and the couple was immediately greeted by the photographer Matt sneakingly arranged to take their engagement photos. The rest of the trip was a dream and now the couple would like to share their important day with you.
The Wedding
Friday, May 17, 2019
Attire: Formal
Ceremony and Reception
Granite Ridge Estate & Barn
65 Delano Dr, Norway, ME 04268, USA
Shuttles have been coordinated to bring guests to and from the hotels to the wedding site.
Other Events
Welcome Party
Friday, May 17, 2019
5:00 PM
Farmhouse
Attire: Casual
Traveling to Maine is beautiful, but not a quick trip for most. So please settle in and take in the amazing scenery. Then join us for some drinks and hors d'oeuvres at the Farmhouse. Shuttles have been coordinated to bring guests to and from the hotels to the Farmhouse.
Attire: Casual
Wedding Party
Jenny Tamarkin - Bridesmaid
Kayla and Jenny both can't wait to drink wine and share a cul-de-sac together one day. To the best man's better half!!!
Rachel Sanford - Bridesmaid
For now a Bridesmaid but soon Rachel will be Kayla's sister in law
Sara Cheek - Bridesmaid
Kayla stood by Sara's side at her wedding and couldn't get married without one of her favorite Texans
Kelly Lacasse - Bridesmaid
Kayla and Kelly have been in each other's lives for decades and can't wait to share this day
Kerry MacEwen - Bridesmaid
Kayla could never stand up and say her vows without her sister by her side
Kirstie MacEwen - Bridesmaid
Kayla's beautiful cousin Kirstie will be standing next to her as well ❤️❤️
Diana Anderson - Bridesmaid
Kayla couldn't get married without her favorite Lithuanian and beautiful friend
Kate MacEwen - Maid of Honor
Kate was there with Matt and Kayla since day 1. Sharing laughs and wine with them after their first date. Cousin of the Bride and friend to both.
Isabella "Bella" & Olivia Apolito - Flower Girl
Flower girls and wedding security
Skylar - Flower Girl
Kayla's niece will be spreading her adorable smile as flower girl & transportation coordinator
Jeremy Klein - Best Man
Most reliable to give a coherent speech
Milo John Sidney Ferguson MacEwen - Ring Bearer
No intro necessary
Josh Semerene - Groomsman
For all of your sakes he will not be giving a speech
Eric Dyer - Groomsman
If anybody needs help starting their fire pit Eric is your man.
Mike Gallagher - Groomsman
LOVES mountains and camping
Sean Barber - Groomsman
Grateful Sean was able to make it through freshman year living with Matt
Keegan MacEwen - Groomsman
Most "normal" MacEwen (Kayla's words)
Mike Kennedy - Groomsman
First dance lesson is free